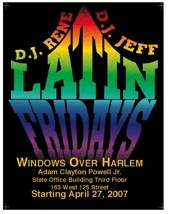 Harlem Salsa starting out by filling a void, which were placed on a devoted community of mambo and cha-cha dancers. This is that mature group, who in the fifties, sixties and seventies made their way every week to the World famous Palladium, than the Corso or the many other venues to dance their stress away. Gone are the days, when you could pick up the newspapers and select what band(s) you wanted to see play. On Wednesdays or Sundays we had at the Palladium the two Tito's, Eddie, Machito or Broadway. On any given Fridays or Saturdays, there was Mongo, Charlie, la Playa, Tjader, Ray or a host of the best Latin bands (as we call them before Salsa) playing at one of the many New York dance halls. Then all the Latin (Salsa) venues dried up with the disco become the new fad.
In the nineties there were on place for us to go dancing "Tony Rodriguez's La Maganette" Wednesday After Work Salsa. This was the only place outside of individual like the big promoters giving a big concert. There an old saying " You don't miss the water until the well goes dry". Sometimes we take things for granted and before you realize it, it's gone by-by. It was that terrible day in July 2005 when this mambo community lost their safe and friendly dancing institution. For two or more years the mambo community was in the desert looking for a place, which would be equivalent to the standard of the La Maganette had set.
The club where we went every Wednesday to dance for over ten years closed down. The promoter tried but couldn't find another establishment with the elegance of the La Maganette. So for about two years, there was nothing comparable to what they had and they refuse to go to places, which was not up to par or to their taste
Over the eight years promoting salsa we had cultured a following by being consistent in providing a safe and classy environment. When picking a venue, location is very important and 125th convenient accessibility covers all transportation necessities. Combine with a strong word of mouth network and social media outlets consisting of 2.2K friends on Face Book and an email listing of about 3K. We also use major event websites such as; HarlemOneStop, SalsaNewYork, Welcome to Harlem, etc. The above items make it easy for us to jump-start our salsa event in a matter of days without going through the traditional public relation campaigns (flyer distribution, newspaper ads, etc).   Each of our events average around 150 to over 300 participants.
Harlem Salsa History 2007 – 2011
A little history about how Harlem Salsa got stated at the State Office Building. Windows Over Harlem asks me to work on their public relation. They wanted me to create some buzz for them to get their name to the public. The only problem they didn't have a budget for the creation of newspaper ads and fliers. My fee for service was too high for them, so the trade off was that they would let me bring Salsa to Harlem. So we came to a traditional agreement common with owners and promoters. The club would control the bar and food and receipts and the promoter bring the people and get the revenues from the door. We supply the DJ, security, door- cashier and floor staffs (problem solver and helper).
May 2007 Harlem Friday After Work Salsa started. Our Salsa event catered to a loyal mature following of salsa dancer who just want a safe, enjoyable environment to dance. This crowd is at the age that after leaving work they are not going home and coming out again. And those who are retired want to be home by 12:00. They have been doing this after work routine for about fifteen years that I know of, because I was on one of them. For two and half years we held this event on the third floor of the State Office Building. So in the two and half years we made Harlem After Work Salsa the place to be. When it was announced that Salsa at Window was closing.   We didn't know the impact or the effect would have grown folk in tears. These five hours were very therapeutic for them. It was a safe place where they could relax and release their tension. So it was like we were doing a community service and developed a family.
With the closing of Windows in February of 2010, and no catering contactor was in place to take over the operation. We found another venue Gospel Uptown across the street from the State Office Building. Although Gospel Uptown had a lot of shortcoming in the management, it was a very nice place.   Other promoters who try to bring Salsa there were not successful, because they didn't have a following and were depending on the band to bring the crowd.   The environment at Gospel Uptown had all the amenities, but it was public knowledge about their financial situation. Although we have a commitment with Gospel Uptown for rest of August, but the way it going I had a feeling that they wouldn't be around for September 2010.
In September of 2010 we try to bring salsa back to the State Office Building, which now was catered by Melba.  The cost and fees was too dear for it to be successful.
We were referred to The Leather Lounge on 128th Street on a dead end street between Amsterdam and Convent.  We worked out the same agreement as above and it was prefect for them, because their night with young folks didn't start to 12 o'clock and we ended at 11 o'clock.
But as the saying goes "when one door closes another opens." After one week being closed, we found the Leather Lounge with an owner who was willing to give Harlem Salsa a chance. They agreed to let us use the place until the end of the year and then meet with him before the New Year and work out the arrangements for the coming year. The main thing we have going for us is that we are low maintenance while other groups come in, and require a large security force. That isn't the case with us. Our people just come to dance and have a good time with no drama.
We were there until February of 2012, Community Board closes them down, because the young folks events cause big problem in the community.
To be continue