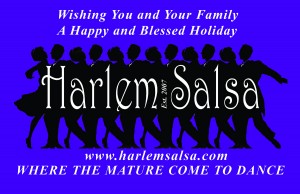 Thank You and Happy Holiday
https://www.facebook.com/100250736715872/videos/972558089485128/
Thanks to all who were able to make it out to the Harlem Salsa (New Home) Friday After Work (After Thanksgiving) Party with CHARANGA AMERICA.  As usual CHARANGA AMERICA WAS HOT and TIGHT, and Jose did his thing.  It was great seeing everyone having a good time and getting the family back together again. You made the party at our new home successful and I am happy that you chose to be part of our new experience with us.  As with most things this is a work in progress and our aim is to work out any kinks, so that it is an enjoyable experience to all. Hopefully everyone had a great time. I like to thank Gina, Juana, Doris, Margie and Casa Latina for taking their time and effort in making sure people got the tickets.
Because we will not see each other until the New Year, we at HARLEM SALSA want to wish you and your family a Bless and Safe Holiday.
Again thank you for your support and hope to see you in January so we can renew our salsa journey.
Check out the links below for pictures from the Nov. 27 event.
https://youtu.be/V6MxE0wFqY4
Also Check out harlemsalsa.com website for pictures and videos of all events dating back to 2007.
Reminder: Because we are coming into the winter months and the weather are so unpredictable. There are three to get up to the minute information about any cancelations.
harlemsalsa on Face Book
Call 646 396 1735